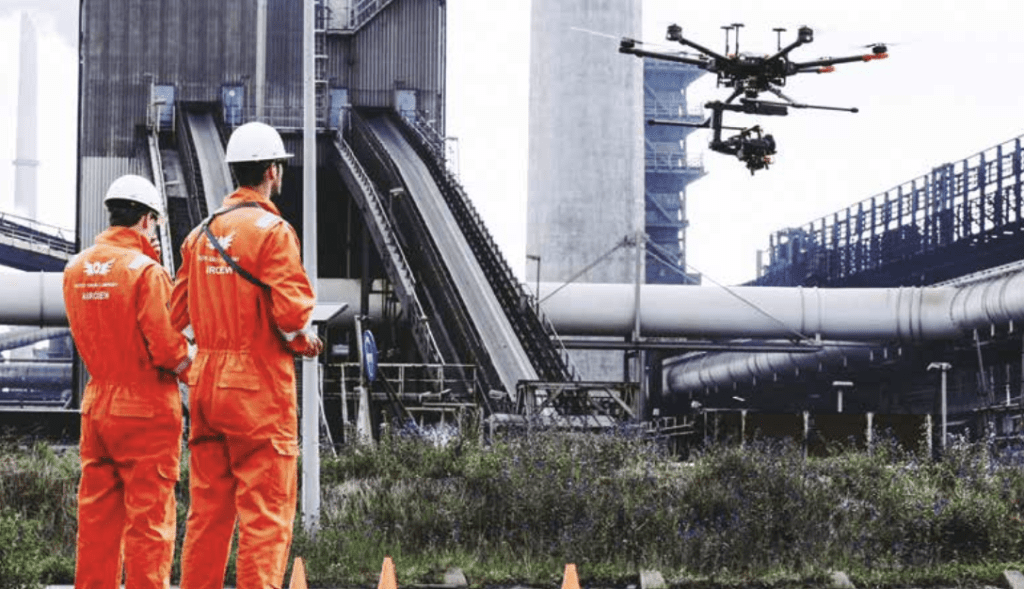 FLAIR Inspection solutions
When flares are out of service for longer than planned due to unforeseen findings during regular maintenance, or when a flare unexpectedly needs to be shut down, high costs are often involved. To prevent such situations as much as possible, it is of utmost importance to inspect flares rigorously and frequently. But doing so in the traditional way, by sending up human inspectors, can only take place when the plant is shut down and the flare is positively isolated.
When a flare needs to be shut down outside the turnaround period, the complete process often takes two days. With a drone, however, flare inspections can take place at any time, even when the flare is in operation, without the need for human access to high-risk zones, and without loss of production. But how does such a drone inspection work in practice? And what exactly are the main advantages for plant operators? Preventing surprises during a turnaround Flares are the ultimate safeguarding equipment of a petrochemical plant. If everything else fails, the flare should always be able to safely discharge the dangerous gases and liquids which otherwise could cause an explosion or other hazardous situation.

To prevent the occurrence of failure and dangerous situations, flares are inspected every few years during a turnaround.
With a drone inspection, maintenance can be planned and budgeted more effectively
Performing a drone inspection (prior to the turnaround) to assess the overall condition of equipment enables plant operators to determine the budget more precisely, and schedule upfront any maintenance works that need to be performed on the flare during the turnaround. This way, time can be used as efficiently
as possible, and any potential surprises during the turnaround can be avoided.

A significant advantage of using a drone is that the flare can be inspected in fine detail and very closely during operation, while minimising risks, saving costs, and improving reliability. For example, it is possible to perform inspections from elevations that are usually restricted for personnel, inspect the dynamic operation of the combustion components, and take detailed
and close-up photos from all angles of every miniscule detail, even inside the flare.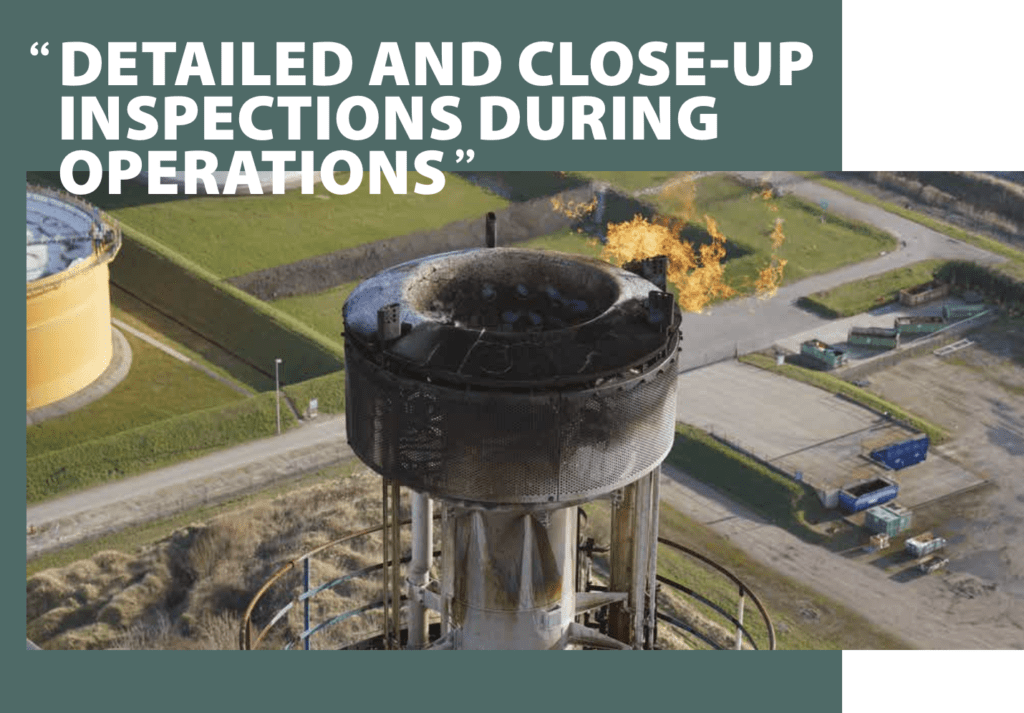 Drone inspections in practice
Escher Process Modules carries out drone inspections together with its partner/drone specialist, the Dutch Drone Company. With this partnership, we have all the knowledge, experience, and resources in-house to perform detailed, close-up inspections, and to accurately interpret the results and provide plant operators with maintenance advice.
Detecting issues that could possibly not have been detected with the naked eye.
With over six decades of experience in designing, delivering, and maintaining Combustion Systems such as flares, Escher fully understands the challenges and concerns of plant operators and knows exactly what
to look for during an inspection. For example, based
on the photos and other data obtained with the drone inspection, we can examine corrosion, cracks, burnt parts, broken refractory, and possible leakage of gases. We can also determine whether these issues are a threat to the performance of the flare or can be resolved. By performing the inspection in this way, we are not only signalling defects, but we also provide plant operators with all the necessary information for operating the flare safely.
The Dutch Drone Company is a fully certified drone operator, experienced in operating on both onshore and offshore installations. By using advanced drones that can be equipped with high definition cameras, 3D scanning equipment and thermographic cameras, all the data needed to assess the condition of the installations can be generated while the system remains operational.
As-built drawings are often not in line with the actual equipment on site. With 3D laser scanning, we can generate a 3D model of the current equipment, enabling Escher to fabricate exact replacement parts for the current flare system, which saves on installation time and potentially also on downtime. With the thermographic cameras, we can detect broken internal refractory or undesirable internal back burning inside the flare tip. It is possible that these types of issues may not be detected with the naked eye alone.
Reviewing data
When Escher performs a drone inspection, the data generated during the inspection (such as high definition photos, a 3D point cloud, and thermographic images)
is thoroughly reviewed and examined by one of our specialised Combustion Engineers. Based on this data, it can be determined whether a more thorough inspection is required or if the plant can remain in operation without problems.
Minimising the amount of downtime resulting from unscheduled maintenance.
The results of the inspection are compiled in an inspection report, including high definition photos of
all relevant details, an indication of the current state of the equipment, potential risks for the performance of the equipment (if any), and recommended maintenance and cost indications (if any). Escher can also supply any required parts and components.

By performing frequent drone inspections, once every one or two years, Escher can give an indication of when the next maintenance round should be scheduled. Regular maintenance helps to extend the lifetime of the equipment and minimises the amount of downtime resulting from unscheduled maintenance.
source: IV-Group magazine.
How can we help you?
Do you like to know more about our organisation or have specific inspection issues you like to discuss? Don't hesitate to contact us, we will get back to you in short notice.